The Nigerian Navy is the largest Navy in Sub Sahara Africa in terms of personnel and second only to the South African Navy in terms of tonnage. The Nigerian Navy has more tonnage than the combined navies of East and West African countries combined.
The fleet consists of roughly 110 ships in active service, consisting of 4 Frigates and 93 Patrol Craft. The vessels run the gamut from NNS Thunder, which is the ship with the longest endurance in Africa, able to circumvent the continent without needing to refuel and sailing as far out as Australia, the only warship in Africa to have ever ventured so far from its home port, to the largest coastal patrol craft fleet in Africa that slithers around hundreds of creeks in the Niger Delta and the Gulf of Guinea.
Perhaps the biggest props to the Nigerian Navy is its Merchant Marine, with a strength of about 600 ships.
These are all the commissioned ships of every size as of 2018
NNS Thunder F90
Flagship of the Nigerian Navy, the ship was designed as a high endurance cutter. Her crossing range of 9,600 nautical miles (17,800 km) at 20 knots (40 km/h), and 80-foot (24 m) flight deck, capable of handling both Coast Guard and Navy helicopters, make the Chase an ideal platform for extended patrol missions.
NNS Okpabana F93.
Of the same class of ship as NNS Thunder, the ship, formerly USS Galatin served with the United States Coast Guard until 31 March 2014, when she was decommissioned. On 7 May, she was transferred to the Nigerian Navy and renamed Okpabana.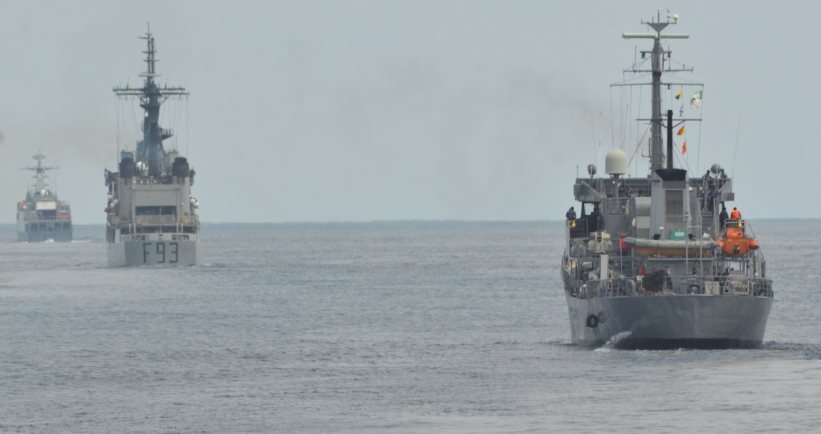 NNS Unity F92 and NNS Centenary F91
Two of Nigeria's newest warships, NNS Unity and NNS Centenary  Type 056 (NATO reporting name: Jiangdao) are a Stealth Patrol Corvette built by China. This vessel is one of the most advanced Offshore Patrol Vessels in the world. It is 90 metres long, displaces 1800 tons, and incorporates anti-radar features.
They are perfectly suited for mid-range missions and littoral duties, but not for major blue-water combat operations, as unlike NNS Thunder that can circumvent Africa in one stretch,  NNS Unity and Centenary is built with a 15-day endurance for combat missions such as patrol, escort and protection of Nigeria's EEZ maritime interests within 200 nmi (230 mi; 370 km) from the coast. The Nigerian Navy acquired two Stealth Offshore Patrol Vessels to free up larger warships for open ocean deployment.
Crew of 78 people
top speed of 25 knots (46 km/h),
range of 3,500 nautical miles (6,500 km) at 16 knots (30 km/h)

COASTAL PATROL CRAFTS
NNS Karaduwa F102
NNS Karaduwa was built by the Nigerian Navy and commissioned into service in 2016. The commissioning of NNS Karaduwa was a major milestone reached by the Nigerian Navy. It represented Nigeria s attempt at self sufficiency and domestic construction of warships.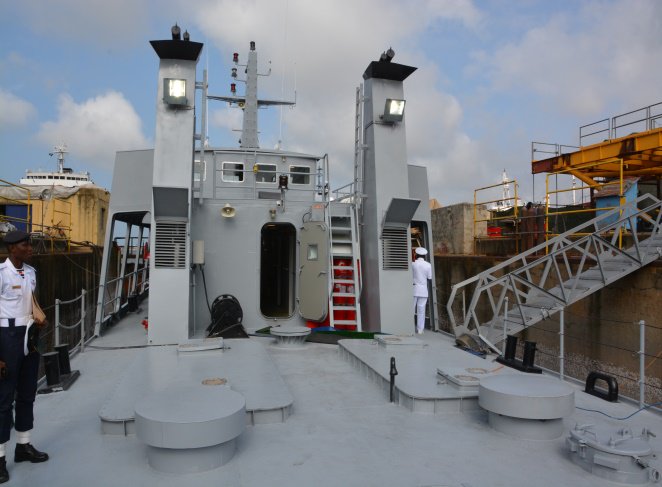 Shaldag Patrog Craft
NNS Kynwa (A 501)
NNS Ayam and NNS Ekpe (Missile Crafts)
Damian Stealth FCS 3307 Patrol Boat
NNS Prosperity F87
NNS Ambe (Landing craft)
NIGERIAN NAVY AVIATION
Augusta Westland Helicopter
RECONNAISSANCE, COMMAND & CONTROL
ATR-42 Maritime Patrol Plane
FALCON EYE MARITIME SURVEILLANCE SYSTEM