When a nation invests sufficiently in its defences, it forecloses the likelihood of humiliating experiences befalling her and her sovereignty takes on a new meaning. There is a new arms race in the region and those in charge of the Nigerian military are sleeping.
The Nigerian Air Force has since been regarded as the supreme air force of in West Africa, but with its increased spending by West African countries who take the security of their country serious, even smaller states are fielding a much larger better equipped air force.
How does the Nigerian air forces look compared to that of Mali? In this article we will take a look into the recent acquisitions in the last two years made by the both countries Air Forces.
MALI AIR FORCE
Airbus C-295W Transport Plane.
In 2017 Mali received a second Airbus Defense and Space C295 transport aircraft to supplement the one that was delivered in late 2016.
Two Harbin Y-12 transport aircraft.
Mi-24D & Mi35M  Helicopter Gunship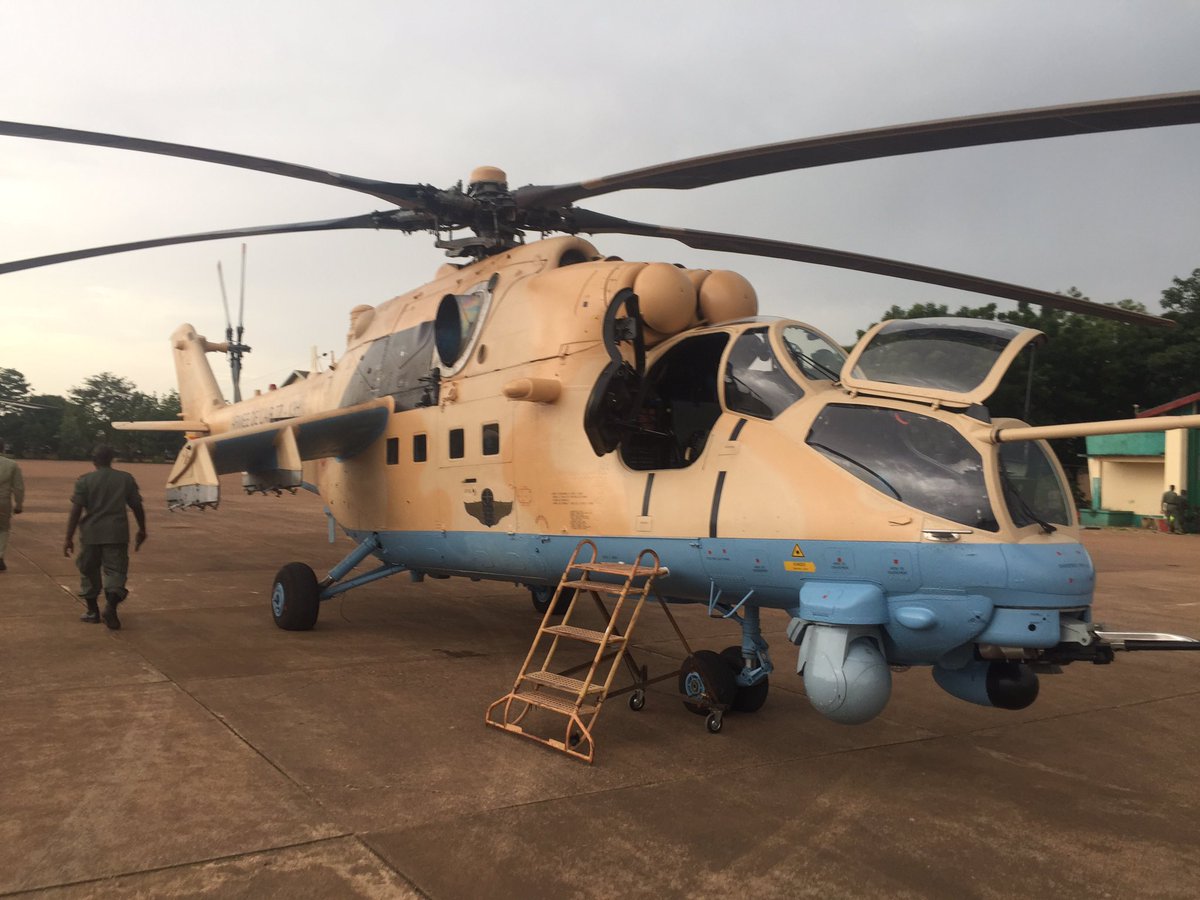 A-29 SUPER TUCANO
In July 13 2018 the Malian Air Force formally inducted four Embraer EMB 314/A-29 Super Tucano light attack aircraft into service.
The Super Tucanos delivered to Mali are armed with 12.7 mm machine guns and can carry 70 mm rocket pods, 20 mm cannon pods and 250 kg bombs. The presidency indicated that Mali has also acquired 20 mm cannon pods for the aircraft.
AS332L Super Puma
NIGERIAN AIR FORCE
Super Mushshak Trainer aircraft
Mi-35 M Helicopter Gunship
Bell 412 Utility Helicopter
EC-135 Helicopter
Here we see even though Nigeria spends more money on its air force than the next 16 ECOWAS countries combined, there are a lot of things to contrast between the NAF the others. For instance the fact that resource poor countries like Mali, Gabon and Chad  field better more attack aircrafts than Nigeria is rather interesting.
The most recent and potent strike aircraft in the Nigerian Air Force inventory is the Chengdu F-7Ni fghter jet. A Chinese mockup of the Russian Mi-21 Fishbird, itself an aircraft designed in the 50s. For Chad its the MiG-29 and SU-25 Frogfoot. For Gabon its the Mirage 2000
CONCLUSION
Nigeria spend such enormous amounts on its military each year that it is almost impossible to compare it with another country in the region but yet consistently lag behind much poorer countries in modern combat aircraft.  Given her status in Africa Nigeria should be pulling uts weight up there with the Egyptian, Algerian and South African air forces. Instead we are reduced to the level of 3rd rate smaller and much poorer countries, and even at that Nigeria is having a hard time establishing itself as the premier air power in the region she is supposed to be the undisputed military hegemon.