In December 2015m the Iranian military caused tensions after it made a post on Facebook threatening to wipe out the Nigerian government over the Killing of Shia Muslims in Kaduna State by the Nigerian Army. The threatening post refered to President Buhari as a puppet regime.
The time when they could oppress Shias and get away with it is long gone, we shall pay a visit to the puppet regime in Nigeria soon, God willing.
This prompted an angry response from President Buhari who arned Iran on the consequences of meddling in the affairs of Nigeria. This also followed an invitation by the leadership of Saudi Arabia to Riyad, there the Kingdom offered Nigeria diplomatic and military support. A week after the visit Saudi Arabia formally invited Nigeria to join an Islamic Military Alliance. Well, it appears Iran is trying to live up to its threats.
The Middle East Institute on Thursday said sources close to Hezbollah have confirmed that the Lebanese organization is currently providing ideological and military training to Nigerian Shiites.
"Tall men, in long traditional African garb specific to northern Nigeria are sometimes spotted in Dahieh, a predominantly Shiite suburb south if Beirut, where Hezbollah runs a cultural center."
MEI quoted a source as saying.
"The training is limited to a few number of people but it is growing steadily.

"The Shiite Nigerians initially receive a religious training before a military one that is provided in two camps in the Lebanese Bekaa.

"Iran has told Hezbollah that it needed ti recruit and train Nigerians to establish a stronghold there, so that it could sere as a operational base for the rest of Africa, mainly to thwart Israeli, French and American ambitions in the region"
The sources  added that the current training program in Lebanon for Nigerian Shiites is limited in scope, at least for now.
"The training that is taking place now in Lebanon is mostly focusing on higher ranking officers in commanding positions, who can in turn train new recruites in Nigeria, which is why the number of trainees remain limited.

''The trainees also generally return to Lebanon every three to six months to receive further training on more sophisticated weapons"
The detained Sheikh Ibrahim Zakzaky, a Sunni demagogue hailing from he town of Zaria, was initially inspired by Muslims brotherhood's chef ideologue Sayyed Qutb. But he later converted to Shite Islam and became flag bearer for Irans revolution in his native country. The Nigerian army had accused the Shiite griup of attempting to kill the Chief of Army Staff , a charge the movement denied.
In November 2010 the Nigerian Customs intercepted and seized 13 containers loaded with weapons such as grenades, rockets, anti personnel mines and 80mm mortars. THIRTEEN CONTAINERS laden with weapons !!THE Nigerian government fingered the Iranian government  as the brains behind the shipment into Nigeria of 13 containers loaded with weapons. Weapons which were intercepted at Apapa port by the State Security Service, SSS.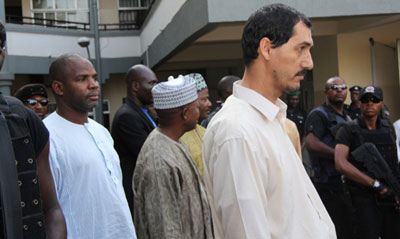 The cargo that was shipped from an Iranian port was listed as building materials but when the 13 containers were opened at Nigeria's main port in Lagos, inspectors found 107mm artillery rockets, rifle rounds and arms.
The Associated Press, AP, quoting from what it described as internal documents obtained from diplomatic circles, said Nigerian intelligence officials and diplomats have concluded that the Iranian government was behind a secret shipment of weapons discovered last month in shipping containers.
The Iranian ambassador was summoned by the Nigerian Foreign Affairs Minister. The agenda of the meeting was the issue of the shipment of explosives and the visit of the Iranian Foreign Minister Manouchehr Mottaki.
A diplomat with access to intelligence on Iran told Reuters in New York that Mottaki had gone to Abuja to discuss the seized arms and to secure permission from the Nigerians to bring two Iranians linked to the shipment back to Tehran. Well, the Nigerian government succumbed,a nd the Iranian arms mechant was released. A very irresponsible act by the Federal government.
With this development is appears Nigeria is in for a long ride. Its gonna be a rollercoaster of events the likes of which Nigeria has never seen as competing powers use Nigeria to carry out their nefarious agenda.
This is possible because Nigeria has practically no deterrence. Its diplomatic clout is waning, and its military is not powerful enough to make any potential aggressor think twice.