At 8;30 PM, four SU-25, 3 Mig-29 Fulcrums and six Mirage 2000 fighter jets took off and pretended to be what they were not, flying routine flight parts  and using routine radio frequencies, there was nothing suspicious about this flight.
At 8:55 pm another 12 aircraft, more than the entire Chadian combat fleet went airborne. They headed south towards Cameroon, before diving low, which dropped them from Nigerian radar screen. This was also nothing new. For two years Nigerian radar had tracked drones and aircraft taking off from airfields in Niger, Chad and Cameroon, though never this many aircraft taking off every morning on the same flight path, and then disappearing from their scope before they return to base. The skies over West Africa has been a beehive of activity over the years, everybody is pulling in sophisticated air assets an in a bid t defeat Boko Haram, a terrorist group that doesn't have an air force.
But this morning instead of going home, the Chadian armada of Su-25, Mig-29 and French made Mirage turned east towards Nigeria, flying under strict radio silence 60 ft above the ground.
It was December 22 2018. Nigerian Air Force pilots are supposed to run 24/7/365 and someone has to work weekends and any holiday. A weekend is non-existent in a country at war. Every day is just like the others. But as is most things in Nigeria seniority and influence rules. Air Force pilots are amongst the elite in Nigeria's armed services. They are off for a few days for Christmas holidays to be with their family, leaving only non-essential staffs to man the base.
The conflict, which was going to bring Nigeria to its knees has been simmering for months. Economic hardship is threatening to tear Chad apart. There are violent protests and the Chadian people are demanding an end to the 32 year Derby Regime and want the French and Americans, who they accuse of supporting the dictator out of their country.
The United States and France have sunk billions of dollars in investments in recent years building military installations. If Derby is overthrown in a peoples revolt, there is no indication it wont happen in Cameroon. If the only remaining dictators in West Africa are overthrown, that is the end of French and American presence in the region. It will be a strategic blow to them at a time of Chinese influence in the region. Its other words, they will not leave without fight.
The oil deposits in the Lake Chad Basin looks promising. If secured French and American companies will be given rights to exploration. A war with Nigeria to secure the islands will not only make Chad a net exporter of oil again, it will be the perfect diversion of attention.
Outnumbered by a factor of 10 to 1 by the Nigerian army and surrounded by one of  largest artillery force, Chad had resolved to strike first and win quickly. That meant destroying Nigeria's vast artillery and amour units and controlling the skies.
While a substantial part of the Nigerian military is made up of old antiquated Soviet weaponry, its artillery capabilities remain exceptionally powerful.  Nigeria's artillery men are reputed to be some of the best trained and equipped in Sub Sahara Africa.
The Nigerian Army Artillery Command has an estimated 2,000 pieces of tube artillery, 30 Palmaria 155mm self-propelled artillery guns, 30 FH77 Bofors, 500 81mm motars, 200 D-30 Howitzers, 90 D-74 Howitzers, 124 OTTO Melara MOD 56 Howitzers and 72 multiple launch rocket batteries.  Thats more artillery pieces than that of the next 15 ECOWAS member states plus Chad and Cameroon combined.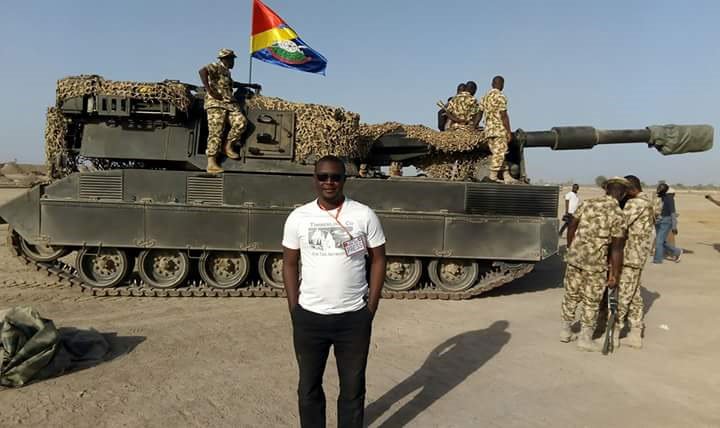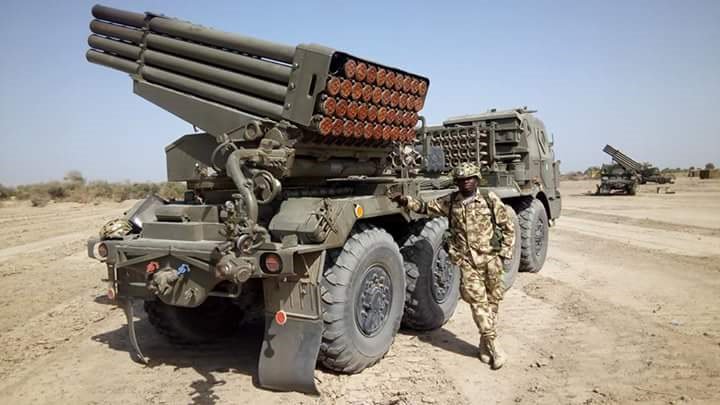 The enemy had good reasons to fear Nigeria's vast artillery arsenal, which could drop ten tons of high explosive shells on Chadian cities and military outposts. Thus was born Operation Silent Strike, a pre-emptive strike to destroy the Nigerian Army and Air Force on the ground.
This audacious plan has been worked out for several years. Chadian pilots flew repeated practice mission on mock targets. Then Chadian Air Force carried out unauthorized airstrikes on deep inside Nigerian territory on numerous occasions, while French and American intelligence and drones collected information on Nigeria's dispositions and defences, and analyzed Nigeria's response to the incursion on its territory.
Will all the effort and deception pay off? the answer will become clear minutes after the Chadian air armada banked over eastern Cameroon and arrived over Nigeria.
Nigerian radar operators, troubled by the unusual number of fast-moving aircrafts sent a coded warning to the Tactical Air Command in Maiduguri, but couldn't get through. It was holiday period, not that the warning would have made a big difference.
The enemy aircraft climbed to 9,000 ft as they approached their targets. The airfield of the 97 Special Operations Group (97 SOG), the NAF primary helicopter gunship base where the bulk of Nigeria's Mi-24 and Mi-35 helicopter gunship fleet were neatly packed in rows outside an aircraft shelter, completely unhindered by anti-aircraft guns and flak.
At the NAF 64 Air Defence Group NAF Makurdi, the first hit were the runway, so planes couldn't take off, followed by six F-7N fighter jets and Alpha light attack jet. It was here that the Chadians deployed a secret weapon, the Durandal crater bomb. Made in France, the bomb deployed by parachute, ad then a rocket motor slammed them into the runway, creating a crater that made it impossible for Nigerian aircrafts  to takeoff.
The first wave lasted for 20 minutes, then there was a respite. but only for ten minutes. Then a second wave came headed for the primary mission objevtive. A substantial number of Nigeria's artillery guns and tanks are deployed in northern Nigeria. Targets hit were the HQ of the Nigerian Army 3 armoured Division in Jos, the HQ 7 Division oin Maiduguri and the HQ 8 Division in Sokoto.
All of the weapons are located in unprotected bunkers built into the surrounding, while others are constantly moved from place to place to reduce their ability to be hit by counter-battery fire.
The enemy aircrafts, in flight of four made three to four passes over the base, each with bombs and cannon.
To wipe out more than half of a nations amour and heavy artillery is no small feat. You need up to date, real-time targeting info to attack all of these positions and destroy them. Reaper drones launched from bases in Niger and Cameroon provided time surveillance and information. The jets are particularly gunning for highly mobile platforms like the MLRS. Just one BM-21 MLRS could potentially fire its entire magazine and be prepared to leave before CB fire hits it.
The audacity of the surprise attack was paralysing to many.  The French and Americans failed or forgot to take into account Nigeria's space based reconnaissance assets.  With less than 30 minutes of warning 25 BM-21 and 6 RM-70 MLRS were speeding towards pre-assigned firing positions at full speed.
In a matter of minutes, these heavy, low-tech weapons would begin the destruction of the Chadian capital with blizzards of glass shards, collapsed buildings and massive casualties that would decimate the aggressor and send shock waves through the Africa.
Nigeria's guns are old, obsolete and lack sophisticated fire control systems. But artillery, unlike jet fighters or tanks, can be kept operational with relatively little maintenance. And the relatively new 122-millimeter rocket launchers can simultaneously fire 12 rockets with high explosive, incendiary or chemical warheads to targets over 100 miles away, covering %60 of Chad.Spread out over vast areas these perfectly positioned offensive artillery firing positions are virtually impenetrable, extremely difficult to take out by counter-fire. In less than ten minutes they will be in a position to pummel Chadian positions.
Nigeria  is powerless to prevent an enemy airstrike on its territory given its limited air defense assets, but retaliation is well within its means, and the enemy is about to find out.