I pity any country in the region that will come up against Nigeria's combat helicopter fleet. With the notable exception of France. The synergy with air and land forces and Nigeria's new army doctrine of controlling the battle space and seize the high ground is devastating. West African countries have always respected how dominant Nigeria's ground forces are in the region. With the creation of an Army Aviation Corp independent of the Air Force the Nigerian army is past its teething period, after years of neglect and embarrassing defeats at the hands of Boko Haram and is growing better and better and better than our adversaries can keep up.
Helicopter gunships is no longer the preserve of the Nigerian Air Force. Their ability to engage targets on the ground as well as in the air allow them to cater for multiple roles has been Nigerian army's dream aircraft in carrying out a myriad of operations. In 2015 the Nigerian Army, as part of its strategic re-balancing program submitted a request for the creating of a Nigerian Army Aviation Corp, much to the chagrin of the Air Force.
That request was granted late 2016, and in February 2018 the Nigerian Army Aviation  Corp went active. Armed with cannons, rockets and guided missiles, helicopter gunships provide anti-tank capabilities and anti-tank capabilities and close air support for ground troops.
Nigeria's fleet of military helicopters are the largest in black Africa, and some of the most advanced in all of Africa. As of this writing Nigeria's combat helicopter fleet consists of
11  MI-17sh multirole helicopter.
12-14 Mi-24P Hind helicopter gunship.
10 Mi-35M Helicopter gunship.
The expected delivery of six new Mi-35M helicopter gunships from Russia months from now will increase Nigeria's attack helicopter fleet to roughly 40 attack helicopters, 16 of which will be the new Mi-35M helicopter gunship, one of the most advanced attack helicopter in the world, with night capabilities.
Throw in a number of weaponized Eurocopter Super Puma and AW101 helicopters, and scores of utility helicopters that can be fitted with machine guns and rocket pods, Nigeria will have roughly 55 attack helicopters. By far the largest in black Africa.
Here are Nigeria's Badass Helicopter Gunships.
The Mi-35M is a multi-role combat helicopter made in Russia. The Russians are big when it comes to military helicopters. This helicopter is primarily designed for attack and military transport missions. It delivers superior flight performance and maneuverability than any other helicopter in service with the Nigerian military.
The Mi-35M is one of the modern combat helicopters in the world.
WEAPONS
The aircraft integrates modern, high-precision weaponry for destroying ground-based armoured targets and providing air support for ground missions. It can be modified as an attack, ground assault, medical evacuation (MEDEVAC) or transport platform.
The chin-mounted turret can be installed with the twin-barrel GSh-23V 23mm cannon with 450 to 470 rounds of ammunition. The gun can fire 3,400 to 3,600 rounds a minute. The stub wings can carry a range of weapon systems including anti-tank missiles, rocket pods/gun pods, or fuel tanks.
The helicopter can be armed with up to eight 9М114 or 9M120 Ataka-V SACLOS radio guided anti-tank missiles, up to 80 'S-8' 80mm unguided rockets and 20 'S-13' type 122mm unguided aircraft rockets.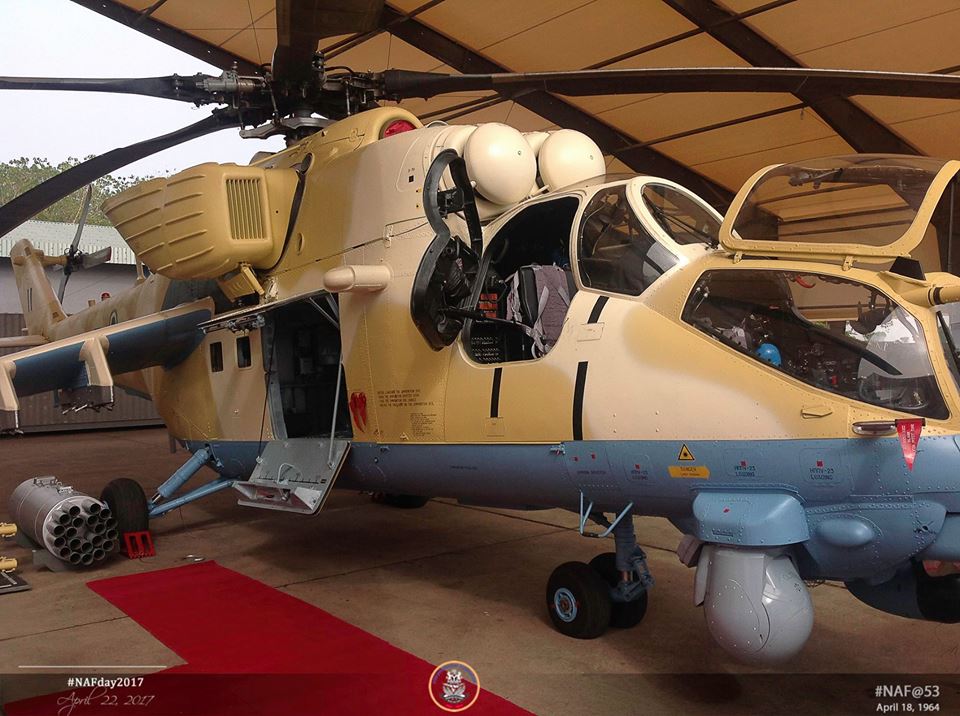 AVIONICS
The glass cockpit of the Mi-35M accommodates two pilots in tandem configuration. The night vision goggle (NVG)-compatible cockpit integrates multi-functional displays (MFDs), redundant flight controls and state-of-the-art avionics.
The helicopter is equipped with an OPS-24N surveillance-and-sighting station, a television channel, a GPS-guided navigation system and an optional non-Russian radio station.
MI-24 Hind Helicopter Gunship
MI-17Sh Multirole Helicopter.
The Mi-171SH-HV military transport helicopter made in Russia. It is manned by three crew members and is capable of carrying up to 28 fully kitted soldiers.The composite five-blade main rotor assembly improves the helicopter's performance. The tail rotor assembly has four blades configured in X-shape.
The helicopter's take-off and landing operations are supported by a landing gear assembly consisting of two single-leg main gears and a double-wheeled nose gear.The fuselage is outfitted with sliding doors on each side of the cabin for passengers. A hydraulic cargo ramp at the rear allows for loading and unloading of cargo.
WEAPONS
The Mi-171SH-HV military transport helicopter variant is equipped with six external hardpoints for carriage of missiles, rockets, weapons and guided bombs.
Up to eight Ataka anti-tank guided missiles, four mounted on each side, are used to destroy main battle tanks with explosive reactive armour. Two OFAB-250 high-explosive fragmentation incendiary bombs are carried to defeat light armoured targets and fuel stores.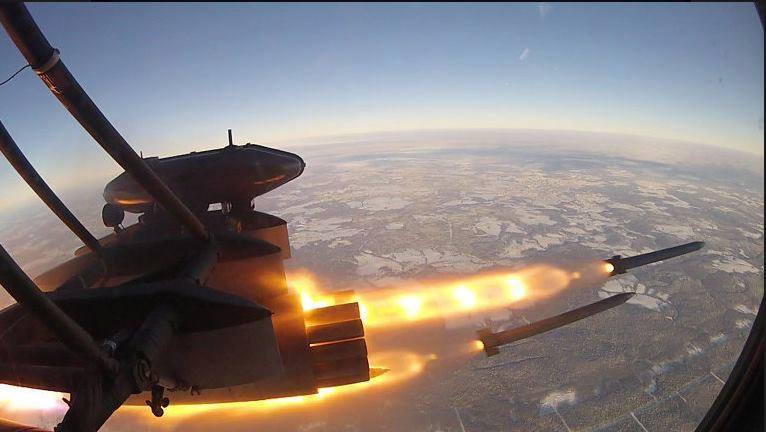 A UPK-23-250 gun pod with GSh-23 twin-barrelled autocannon is fitted to provide a high rate of fire against enemy aircraft. The helicopter carries two 12.7mm-calibre Kord machine guns near the left and right doors. An additional two 12.7mm-calibre bow machine guns are suspended on the truss structure.
Mi-171SH-HV's weaponry also includes two S-8 rocket launchers and a 7.62mm PKM medium machine gun, which is mounted at the rear.
AVIONICS
The Mi-171SH-HV multi-mission helicopter features a glass cockpit with new flight-navigation equipment, digital autopilot, and reliable analogue instruments.
Utility Helicopters
AS332 Super Puma Helicopter
The Super Puma is used primarily by the NAF for Search and Rescue (SARS) missions. The Super Puma is equipped with advanced avionics featuring a full glass cockpit and specific mission equipment such as searchlights, emergency flotation system and external fuel tanks.
The twin-engine, heavy rotorcraft from the Super Puma family is equipped with multi-function digital screens and an advanced four-axis autopilot that provides flight envelope protection, unrivaled precision, and stability in even the harshest operating conditions, according to the company.
The additional fuel tanks of the helicopter increase its range up to 560km.
The aircraft also features an emergency buoyancy system, a high-frequency radio, a hoist, and a cockpit compatible with night vision goggles, among other equipment.
A number of these helicopters have been retrofitted to carry rocket pods by NAF Engineers.
TRAINING
Nigeria has some of the best military pilot training school in Africa. Basic flying training in the Nigerian Air Force for helicopter gunship pilots are conducted at the International Helicopter Flying training School in Enugu, South East Nigeria.
During basic flying, prospective pilots undergo another ground school, taking cognizant of the helicopters they will be flying.